What to expect from this edition of FC News…
New Webinar: Introducing FileCatalyst Workflow 5.1
New Blog Post: FileCatalyst Flashback: Voyage Through the 2010s
Upcoming Featured Event
Other Events
Featured Product of the Month: FileCatalyst Workflow
Webinar: Introducing FileCatalyst Workflow 5.1
Our team has been hard at work bringing new updates and features to FileCatalyst Workflow, and our Co-Founder & President, John Tkaczewski, hosted a webinar on January 9th to share what's new with this version.
New Blog Post:   
FileCatalyst Flashback: Voyage Through the 2010s
The start of a new decade is always something to look forward to, it provides an opportunity for a fresh start, for new ideas and ultimately to reflect upon your growth. We are proud to share that in 2020 FileCatalyst will be celebrating its 20th year as a company. Let's kick-off the roaring twenties by looking back at some of our most enticing blogs from the 2010s.
Featured Upcoming Event: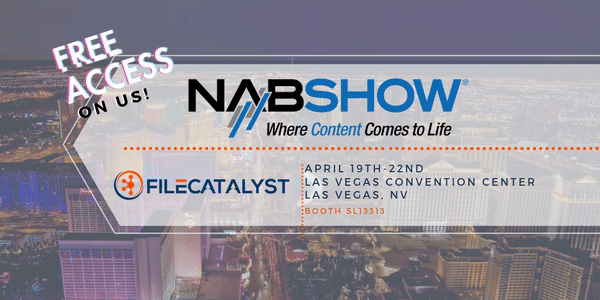 The NAB Show® is where content comes to life in a unique, experiential setting of networking, learning, and discovery. From April 19th to 22nd come visit FileCatalyst in Booth SL13313 where we will be showcasing our entire fast file transfer solution suite.
Still haven't decided if you're going to attend? Why not get in for FREE using our customer code: LV2739
While you're at the show, why not guarantee a meeting time with FileCatalyst on the floor? Save your time slot today.
CABSAT 2020
CABSAT is working with the most innovative content creators, producers, broadcast technology providers, satellite distribution and content delivery companies to identify the traits of success across all verticals to identify common characteristics that will be the blueprint for growth.
Learn, Network, Identify & Be Part of MEASA region's only platform that inspires creativity, showcases leading edge products in production, post-production, delivery and distribution
FileCatalyst Workflow continues to attract new customers through its ability to send large files through any browser regardless of its size. The latest version, FileCatalyst Workflow 5.1 was recently released and has exciting new updates and features. One of the new key additions is the new "Request Files Here" feature. This allows File Area users to request files from outside users to upload into a chosen folder in a FileArea. 
Scared to commit? We are so confident in our product that we are happy to offer a free trial. Click the button below to get yours now!
FileCatalyst File Transfer Calculator: 
Still not convinced? Take our File Transfer Calculator for a spin and see how much time FileCatalyst can save you!